Specialisation
Our stylists are extremely skilled and continually trained in all aspects of hairdressing. At Barnes & Bray we recognize and encourage the individual hairdressers' strengths, those areas where they truly excel.
DYLAN BRAY (Level 4 Stylist)
Dylan has over 20 years experience in hairdressing. His passion for excellence was instilled during his initial training and subsequent career at Vidal Sassoon.
His genuine fascination for hairdressing and enthusiastic dedication to education compel Dylan to train himself constantly. His mantra being: "If Roger Federer still feels the need to train at tennis, then…."
Interesting fact
Dylan is one of only 7 hairdressers currently working in the UK to have a degree in philosophy.
Specialities
An absolute wiz with curly hair.
Precision haircutting.
Kris (Level 3 stylist)
With over 10 years in hairdressing, Kris joined Barnes & Bray to really spread his wings. A consistent and calming presence, he has quickly built a dedicated clientele who benefit from his incredible patience and flair for detail. Kris is a man of many interests: a skater, a gamer, a collector, a lover (but not a fighter).
Interesting fact
This man knows more about Star Wars than George Lucas.
Specialises in
Barbering.
Precision haircutting.
Blow-drying.
Emma (Level 2 Stylist)
Hairdressing was Emma's first love when she left school. Sixteen years later she hasn't looked back - or for another lover! Emma joined Barnes & Bray to join her old pal Kris and is an asset to the team with her breadth of colour knowledge, having taken part several times in the prestigious L'Oreal colour trophy. It is a lovely experience to be sat in Emma's hairdressing chair and having her work her magic, as her busy column will testify.
Interesting fact
A vintage gal at heart with a pint of beer thrown in for balance.
Specialises in
Balayage/Highlighting
Vibrant hair colour
Styling and glam blow-drying
Monica (Level 2 Stylist)
Monica arrived in England from her native Spain in 2019 to immerse herself in the variety that life offers and expand her 22 year long hairdressing career. And where else but London (and Barnes & Bray!) to hone such skills. Monica has undergone training at Vidal Sasson since joining us and is working hard to speak the local lingo. In Spain, Monica was frequently involved in backstage work for fashion shows and taught hair styling at a Spanish model agency.
Interesting fact
As expected, Monica mixes an impressive sangria. Family recipe, perhaps? She said she's sworn to secrecy...
Specialises in
A fan of GHD hot styling tools for hassle-free weekend hair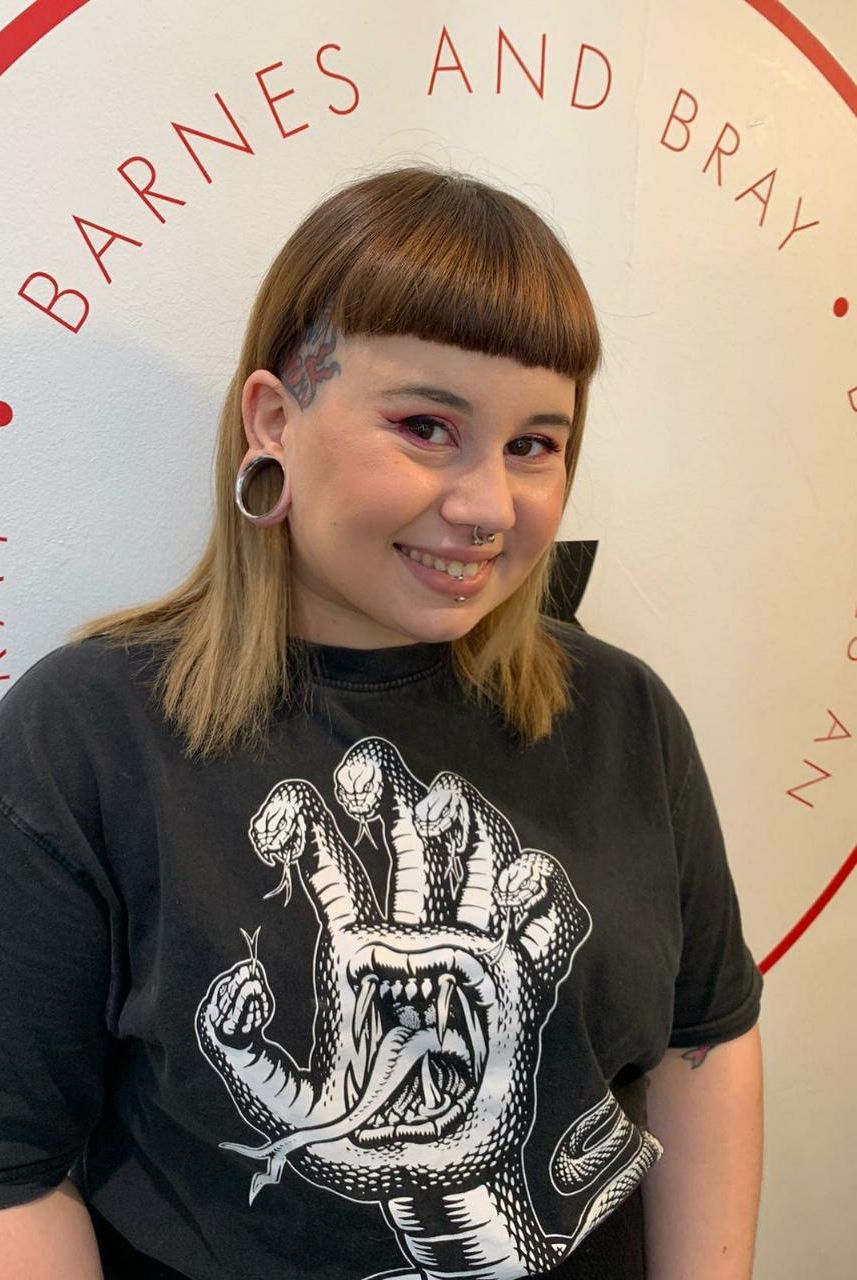 Alba (Level 1 Stylist)
Alba's keen interest in the punk music scene beckoned her to London in 2019 and since then she has fallen head over heels for British culture. A movie buff, Alba has an eye for aestetics and style. She qualified with a Spanish NVQ3 in 2013 and worked in salons specialising in fantasy hair colour and on-trend haircuts before joining us in Barnes & Bray on her hairdressing journey.
Interesting fact
With more of her skin tattooed than remaining natural, there is only one tattoo that Alba cringes at each time she looks at it. Can you guess which?
Bethany (Level 1 Stylist)
After working as a wig stylist on various musicals touring the UK including Priscilla Queen Of The Desert and We Will Rock You, Bethany joins Barnes & Bray to expand her experience in the wonderful world of hair. Bethany is undergoing training with the aim to specialise in a range of colouring techniques alongside learning how to cut with precision. She places high standards upon herself (as we do at Barnes & Bray, naturally!) and is determined to become a brilliant and busy hairdresser. Watch this space.
Interesting fact
Bethany is mummy to our resident Dachshund Penny who, as you can imagine, is just ridiculously cute! Pats welcome.