Specialisation
Our stylists are extremely skilled and continually trained in all aspects of hairdressing. At Barnes & Bray we recognize and encourage the individual hairdressers' strengths, those areas where they truly excel.
DYLAN BRAY (Level 4 Stylist)
The Curl Specialist
Widely regarded as one of the finest curly hairdressers in the UK, Dylan brings over 25 years of highly skilled experience to your hair. His fascination for cutting and styling were instilled during his initial training and subsequent career at Sassoon, where he honed the precision of shape to create hairstyles that really suit the individual.
Dylan is the creator of the Curlaplex, a bespoke method that brings precision cutting to the world of curl-specialism.
If you are seeking Dylan to work with your waves or curls, then please book a Curlaplex (a cut and finish is for clients who wear their hair straight (which he's also more than a little nifty at!))
Follow Dylan on Instagram to see examples of his work: @boy_meets_curl
Interesting fact
Dylan is one of only 7 hairdressers currently working in the UK to have a degree in philosophy.
Specialities
Naturally Curly Hair
Precision Cutting.
Understanding and advising style to face-shape suitability.
Kris (Level 3 stylist)
With over 10 years in hairdressing, Kris joined Barnes & Bray to really spread his wings. A consistent and calming presence, he has quickly built a dedicated clientele who benefit from his incredible patience and flair for detail. Kris is a man of many interests: a skater, a gamer, a collector, a lover (but not a fighter).
Interesting fact
This man knows more about Star Wars than George Lucas.
Specialises in
Barbering.
Precision haircutting.
Blow-drying.
Emma (Level 2 Stylist)
Hairdressing was Emma's first love when she left school. Sixteen years later she hasn't looked back - or for another lover! Emma joined Barnes & Bray to join her old pal Kris and is an asset to the team with her breadth of colour knowledge, having taken part several times in the prestigious L'Oreal colour trophy. It is a lovely experience to be sat in Emma's hairdressing chair and having her work her magic, as her busy column will testify.
Interesting fact
A vintage gal at heart with a pint of beer thrown in for balance.
Specialises in
Balayage/Highlighting
Vibrant hair colour
Styling and glam blow-drying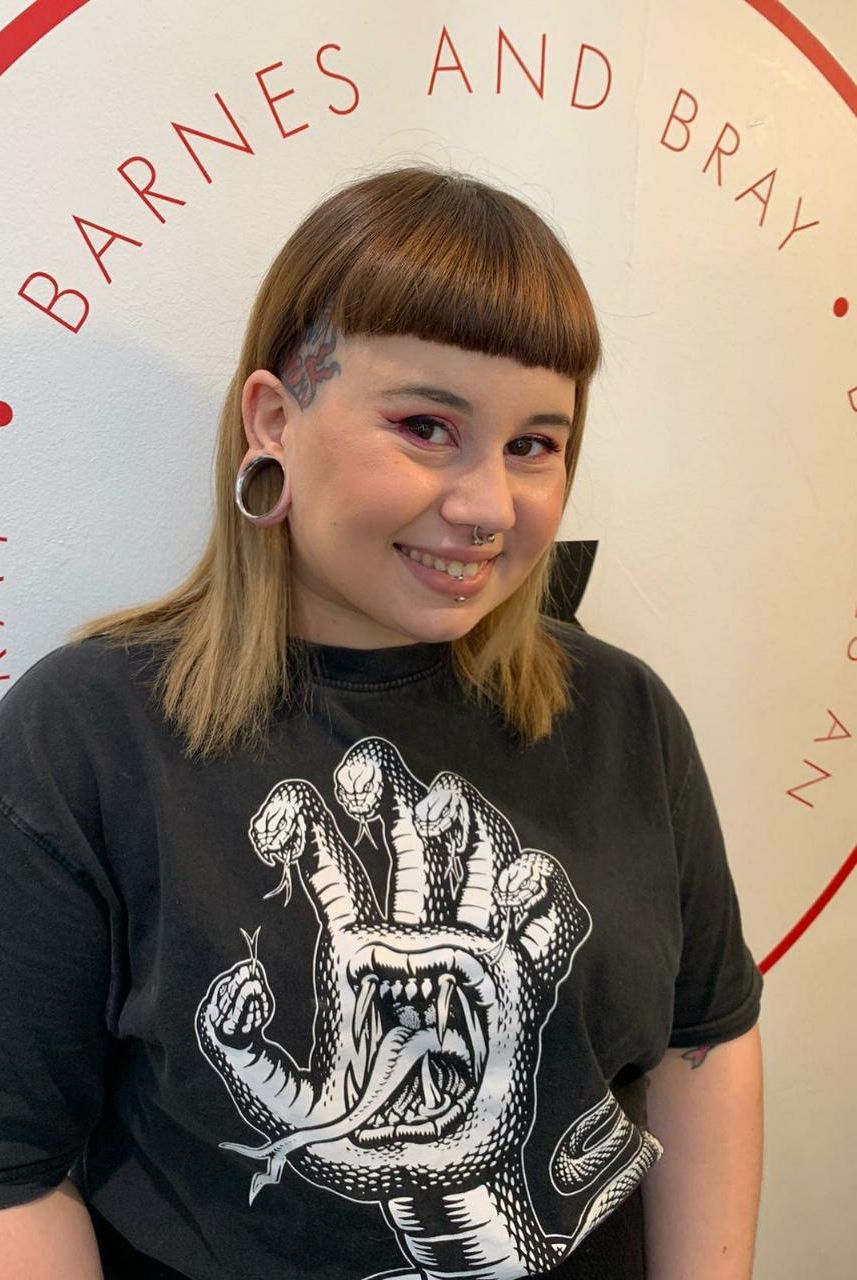 Alba (Level 2 Stylist)
Alba's keen interest in the punk music scene beckoned her to London in 2019 and since then she has fallen head over heels for British culture. A movie buff, Alba has an eye for aestetics and style. She qualified with a Spanish NVQ3 in 2013 and worked in salons specialising in fantasy hair colour and on-trend haircuts before joining us in Barnes & Bray on her hairdressing journey.
Interesting fact
With more of her skin tattooed than remaining natural, there is only one tattoo that Alba cringes at each time she looks at it. Can you guess which?
Marina (Level 1 Stylist)
Marina just couldn't be more lovely if she tried and we challenge you to find someone who smiles more! After following a path in Information Technology in her native Brazil, Marina decided to listen to her heart instead and pursue the road less travelled into hairdressing. A diligent student, Marina continues to perfect her skills and offers a killer blow-dry that can hardly be improved upon!
Interesting fact
This gal can pull some serious Samba moves. Oh! - to be South American!
Owen (Stylist on his own level!)
Owen is the best kept hair secret in SW18. Although he would prefer it to stay that way, we think his skills are worth shouting about. With a career spanning over 30 years, he started out at the London College of Fashion before working alongside Nicky Clarke. Skip forward to Old York Road circa 2005 and Owen brings to the street a wealth of experience and knowledge in hairdressing, in particular in all things Afro hair. Owen is also exceptional in the 'almost lost' skill of hair-up, so keep him in mind for any wedding, party and Bar/Bat Mitvah you find yourself invited to. Contact Owen via Instagram @owen_4472 or mobile 07932618751.
Interesting fact
Despite loving his sessions in the gym, Owen doesn't moonlight as a present day Adonis. His cats Max and Amy provide a reliable alibi to this.
Colicia (Receptionist)
That cheerful voice on the other end of the phone is more than likely going to be our front of house extraordinaire Colicia. With a theatrical background, Colicia has found the salon environment akin to a natural habitat and can be seen waltzing around from reception desk to wash basins, welcoming, helping and generally acting like a magical fairy putting order back into disorder on those crazy busy salon days.
Interesting fact
The interesting fact is that she keeps the interesting fact to herself. The mind boggles...